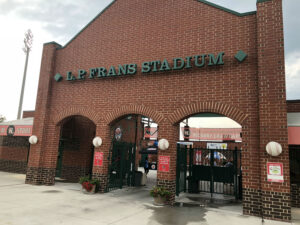 That's what we all long to hear and we will hear it this Saturday, May 28th at L.P. Frans Stadium, home of the Hickory Crawdads. Our returning players are raring to go bat in the big leagues again. And those of you that are new to our league this year, you are going to have a blast!
Wear comfortable clothes, bring the sunscreen, and don't forget your camera! We will begin our Opening Ceremony right around 10:00am. Join us on the field or find a shady spot in the stands and prepare to have a great time.
This 28th Annual All-Star T-ball game is one of our biggest events of the year, so bring your friends and family to cheer our players on as they run the bases. Players and their families will be served lunch after the game.